You are here
Back to top
Unholy Heart: New and Selected Poems (Paperback)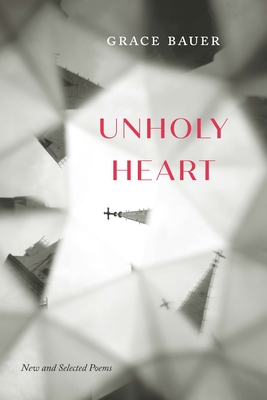 $19.95

Usually Ships in 1-5 Days
Description
---
Unholy Heart includes generous selections from each of Grace Bauer's previous books of poetry, plus a sampling of new poems. Bauer has long been known for the wide range of both her subject matter and poetic styles, from the biblical persona poems of The Women at the Well, to the explorations of visual art in Beholding Eye, to the intersections of personal history and pop culture in Retreats and Recognitions and Nowhere All At Once, and to the postmodern fragmentations in MEAN/TIME. Along with these selections, Bauer incorporates her most elegiac work yet.

 
About the Author
---
Grace Bauer is the Aaron Douglas Emeritus Professor of English and Creative Writing at the University of Nebraska–Lincoln. She is the award-winning author of numerous books of poetry, including MEAN/TIME, The Women At the Well, Nowhere All at Once, Retreats and Recognitions, and Beholding Eye.


 
Praise For…
---
"Grace Bauer is a first-rate narrative metaphysician, telling stories as ideas and ideas as stories. . . . A keen inventiveness lights up every poem in this new and selected collection, in which the beautifully, uniquely observed detail exists not for its own sake but as one more clue leading us toward unsettling discoveries."—Dorothy Barresi, author of What We Did While We Made More Guns

"Unholy Heart offers us a record of a poet, steadily, and with craft, deep reflection, wit, sensuality, and honesty—building a case for the dismantling of patriarchy through the challenge of persistent myths that undergird American culture, from the Bible to popular culture to art history to various mythologies of ancient and present mintage. With masterful use of ekphrastic poetry, persona poems, narrative poems, formal poems, and free verse, Grace Bauer's body of work, presented beautifully and generously in this volume, is a welcome and important addition to the poetry of the Midwest, and to the poetry of America."—Kwame Dawes, author of Nebraska: Poems

"In Unholy Heart we witness the unfolding of a life, a voice, and a spirit, often as the speaker inhabits other voices, from the biblical Marys to Marilyn Monroe, via iconic visual artists and their art, and via a range of landscapes, of homes seen anew. 'What I once called home / today seems strange,' Bauer writes as the biblical Ruth, and it is that perception and re-perception, and an intensifying openness to mystery and interior journeying, that characterizes this collection."—Diane Seuss, author of Still Life with Two Dead Peacocks and a Girl?